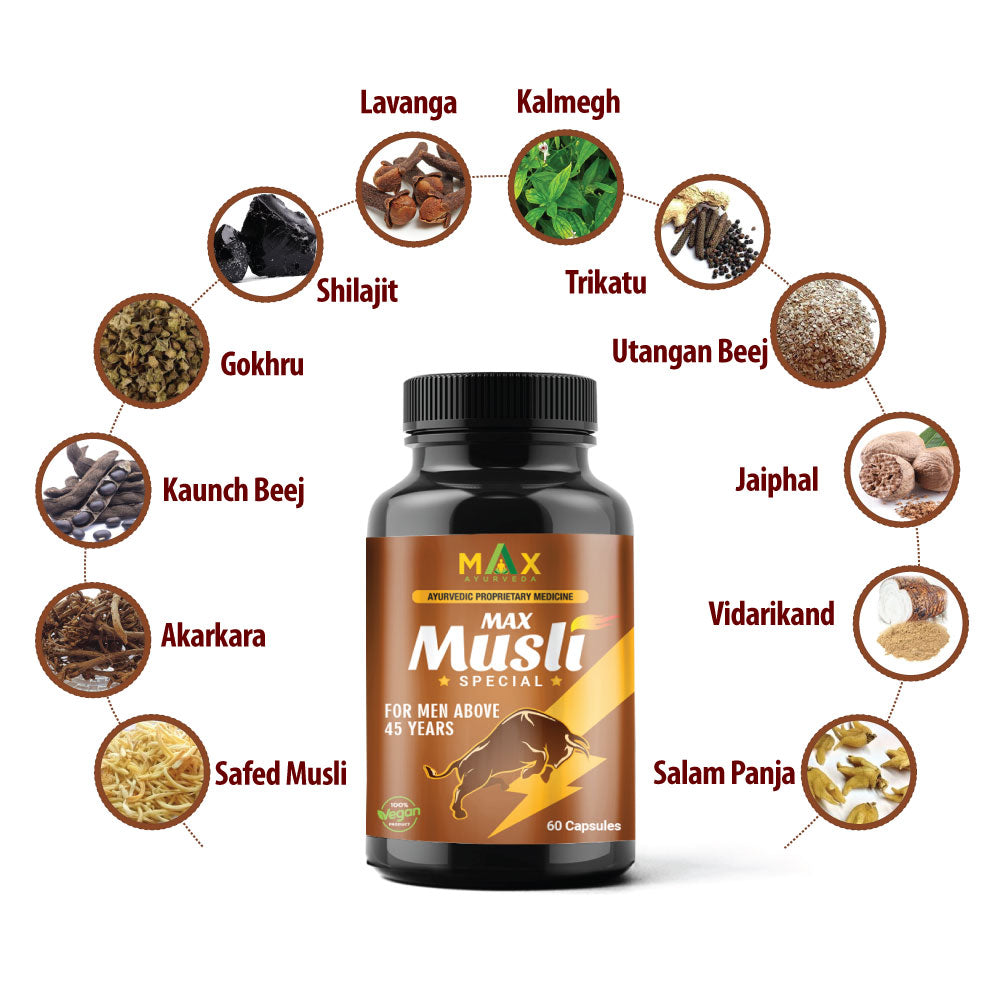 Max Musli Special ( for 45+ Men ) Combo for Stamina
Max Musli Special & King Power oil are scientifically formulated from 13 & 20 powerful herbs extracts after extensive clinical trails & approval from Ayush Department- Govt Of India for spreading happiness in your married life.


Your Benefits of Max Musli Special & king Power Oil
Control your premature ejaculation / early discharge
Correct your erectile dysfunction
Give hardcore erection to your penis
Increases the size of your penis in length & thickness
Give strength to your penis tissues & veins
Increases the blood circulation in your penis
Immunity Booster 
Increases testosterone level 
Increases volume of sperm & enhance libido
Speedy recovery for the next climax
Enhance energy, power & stamina
Correct Metabolism
Nervine Tonic

Stress Buster
Antidepressant
Give strength to muscles & bones
Powerful antioxidant
Recommended to use Minimum for 3 month 
Starts to work in 5 to 7 days
100 % herbal formula
No side effects
High-quality herbs extracts used
Approved by AYUSH deptt - Govt of India
GMP Certified
ISO 9001:2015 Certified
Halal Certified 
FDA Approved 

Clinically tested Product

 
Discreet Delivery
Free Doctor Consultation
Free Shipping for India, UK, USA, Canada & UAE
Ingredients in Max Musli Special   
Musli Premium is enriched with Safed Musli, Irani akarkara, kaunch Beej, Ashwagandha, Shilajit, Gokhru, Jaiphal, Amalaki, Brahmi Neer, Piper Betal, Lavanga, Pipaali & kokilaksha. 
Recommended Dosage   
2 capsules after 1-2 hour of dinner preferably with warm milk or water. 
For a normal healthy person, course is recommended for 3 months with 180 capsules for effective results.
Ingredients in King Power Oil  
Ashwagandha, Akarkara, Kaunch, Shatavari, Til Tel (Sesame Oil ) & 16 others herbs. 
PROCEDURE OF USING THIS OIL :-
Apply 10-15 drops of the power oil on your penis base & entire shaft.
Apply Power oil on your penis shaft without touching the head of the penis.
Keep massaging until all the oil is soaked by the skin and nerves of the penis.
You can massage your penis before 1 hour of the activity.

Complete course is for 3 months with 3 bottle of oil 
 


Max Musli Special ( for 45+ Men ) Combo for Stamina
Just started 10 days back
Result will start later. Now at present just 20℅
Best product genuine result
Best product to purchase. My stamina has increased from 2 mins to 30 mins.
Best in the market!
This is awesome. Helped me enhancing energy, power and my stamina. It has increased from 5 mins to 20 mins.
value for money
helped me improve my metabolism and my climax has been in control. packing is good .
Sandeep Bhatia
BAMS (Bachelor of Ayurveda, Medicine, andSurgery)